International Amber Association (IAA)
Societas Succinorum in Polonia
Since 1997, the Association has been granting Certificates to recommended companies which have committed themselves to meeting the criteria required by our organisation.
The Certificate gives its bearer the right to use the Association's logo.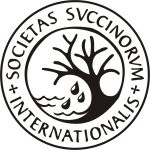 The logo testifies to the correctness of the processing method, the good quality of the entire product, as well as to the company's reliability, it is a guarantee of the authenticity of the raw material used: exclusively Baltic amber, and therefore a protection against forgeries and substitutes.
Recommended companies must comply with Amber Classification System created by IAA.