Jewellery - gold - necklaces
Lots of photos of jewellery to see in the form of a 3D presentation!
Filetr by tag "nature": flowers, flora, plant, four-leaf clovers, shell...
PREVIOUS 1/1 NEXT
---
GN289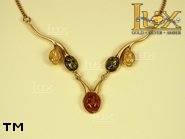 weight: 8g
---
TAG: nature
---
Light and modern GOLD necklace.
Stone: amber.
---
3 design in the
set
.
---
Special requests (amber, jet, colour, sizes...):
pcs
PREVIOUS 1/1 NEXT
---